01 Jun

How did our store design come about?
Find out about our design story.
It's hard to write this post because it involves a collaborative effort between so many people who are not even aware of it… they're in different parts of the world… As a matter of fact, this was an international labor of love.
Here we go.
The first person who walked into the shop to decide what this place's interior design was going to look like is @ienacruz. Federico Massa is a dear friend and a great artist! His walls are masterpieces that changed many cityscapes in the US and Italy ? As soon as he walked in he proposed we treat the ceiling as blocks of colors that he had seen in our visual identity outline. He identified what colors went where. ?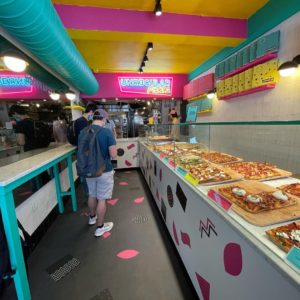 These colors were thought of and expressed throughout our branding process by @pao_coz88 at @coz_illustration a Milan based artist and designer who put together all of @unregularpizza 's branding and visual identity.
Our logo comes from an indirect collab between her @thecreativeshake and @solid_branding led by @alfredo_muccino . To them we'll always be grateful. ?
Later, we were approached by an Italian architect who lives in Piedmont his name is Marco @darda88. He owns @darda_concept and he was exceptional in providing us with a rendering of the place when it was still in shambles (see below for the rendering).
If anyone needs a hand creating a rendering quickly and with a crazy Italian flair, get in touch with him! ✍️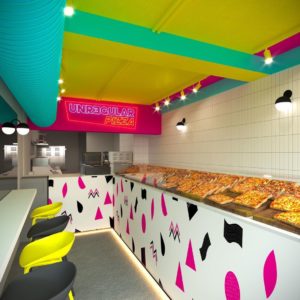 Artist @sourabh_gupta_design was key in helping us understand how to realize what Marco produced visually. Without him, we don't know how we would have started it. ?‍?
Subsequently, came @fede_teso an Italian interior designer who gave us all her team to help us really make it happen! In a few days we had stencils all over and a floor full of shapes ! It was magic?


At last but not least, we would like to mention our t-shirt provider, whom we bugged to make a lot of t-shirts in very little time long before we opened! @talk2emm.nyc if you're looking for a reliable and quick personalized T-shirt service, Gary is your guy!
Thank you everyone for helping us out. Without you, it wouldn't have been possible!
The featured photo was taken by @nicksolares (next time we're making you a ? ?)