12 Jun

FIRST BARTER EVER FROM THE PIZZERIA WITH OUR FIRST BARTERER EVER: Federica Martella

Good things take time ⏰ … and we're happy to say that we have officially inaugurated barter season at the pizzeria with our first barterer ever, our friend, Federica Martella. ?? ?

On May 20th 2020, @federicamartella had sent us cocktails at home ? ? in exchange for pizza with potatoes and rosemary ?? ?.

On June 2nd 2021 (which is also a big holiday in Italy: Republic Day ?? ?) we met her in @unionsquareny to barter the first pizzas ever to come out of our commercial oven! Federica did something crazy: she sent us a singing telegram from a pink monkey ?? who spoke about celebrating, barters and pizza! ? His name is @bernardinthecity and he owns a very special show @thepuptinshow He might be our guest very soon! ♥️
Federica also printed and framed some stills from our first barter. We are hanging the collage on our Wall of Barters! Swipe ? to see it ? ?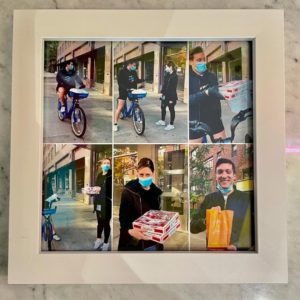 We made Federica 3 pizza boxes because she deserved them:
– Delicatissima (her favorite pizza): Cherry tomato confit, mozzarella, Spotify Plays pancetta, red wine reduction sauce.
– UnVegan (for Federica's sister @decolonizing_lu ) : Cherry tomato confit, asparagus tips, asparagus cream, tomato sauce.
– A mixed box of #BURAPPIZAS because they're our signature pizzas ➕ one slice of Bufala chicken

We also gave Fede an #unregularpizza t-shirt ?
???? ? ? ? + ? ?
The whole barter was filmed by the wonderful journalist factotum @justinere from @ny1 We can't wait to see the segment ! Thank you for your time Justine ? ? ? ♥️

Let the barter season begin… this was a worthy beginning ? ?