04 Sep

A pizza barter with Ryan Serhant
A pizza barter with Ryan Serhant.
In exchange for cocktails and a view from a $4.75MLN Harlem-based luxury penthouse, Gabriele Lamonaca did a pizza barter with Ryan Serhant. Gabriele Lamonaca and the Million Dollar Listing broker and the Harlem-based met at 145 Central Park North for the extravagant trade.
Ryan Serhant bartered cocktails and a view in exchange for a very special Roman-style pizza in his recent Harlem-based $4.75M listing: a penthouse that has a rooftop jacuzzi and astonishing Central Park views.
Just like Gabriele Lamonaca's beloved home city of Rome, "Unregular Pizza" was not built in a day. Having spent years in the restaurant business, gaining experience in every aspect of the business, Gabriele was ready to finally open his own place, but like the rest of the global population, his plans came to a halt with the arrival of the pandemic.
After weeks of lockdown and yearning for a creative outlet, the Roman born pizzaiolo began experimenting with ingredients and flavor combinations, crafting decadent pizzas. The pizza is leavened for 72h, baked squared, in the signature Roman style. Moreover, it included the iconic creation; the Burrapizza, where each delicious square slice is topped with a whole burrata! He began a dedicated Instagram account named 'Unregular Pizza' and soon his friends started asking for a taste.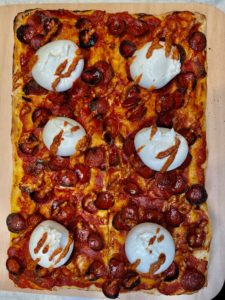 Eager to share his creations, Gabriele suggested they do a barter: a pizza in exchange for something else home-made b. As his online following grew, Gabriele bartered with more and more New Yorkers. He swapped his pizzas for a range of treats including traditional meals. These included tempting desserts, home brews and experiences such as horse-back rides or a night in a fancy hotel.
During an unprecedented time of global disconnect and isolation, the pursuit of human connections brought Unregular Pizza to life.
The UP team have committed to keeping this spirit alive by offering in-store weekly barters to lucky followers. In fact, they hope to continue to build on the incredible community of barterers they created across the city of New York. 
Mr. Serhant has always utilized creative sales strategies to sell his properties and in this case, his inventiveness went beyond imagination. In fact, the popular real estate broker met the pizzaiolo in this Harlem luxury building. He and his team made cocktails on the spot in exchange for "burrapizza". In addition to this, the star broker decided to take a dip in the rooftop jacuzzi while having a bite of  NYC's most sought slice.
There is something more to this barter and both Ryan Serhant and Gabriele Lamonaca know it. It touches on profound chords such as the mutual understanding that an NYC urban renaissance is taking place. We must support it in every single way.
In fact, this is a playful way to eat excellent and irregular Roman-style pizza.  But it's also a way to market a Harlem-based luxury home in a lighthearted way. A delightful invitation to be happy.